My first ever do-organised-exercise-in-London was going to the Nike Training Club event in the London Eye. I saw it on Facebook, put my name in the form and got a spot. I didn't really realise at the time how much would come from that but since then I've gone on to test out Nike shoes, unknowingly show up for a Nike photoshoot with an Olympian, and run 10k PBs at their races.
Everyone has their opinions on brands & bloggers, but I really do appreciate how Nike works with us and I think it does a lot to promote running & fitness to Women specifically. Every time I come back from an event I get a tongue-in-cheek "reverse sexism" talk from Alex (who really just wants some nice kit too).
Last week I was invited to the annual NTC Week and was so excited to get a spot in the yoga-skate night which looked like one of the best classes they were offering all week. I have a little bit of a "what if" with skateboarding and was never cool enough to try it when I was young (but I still think I'd be really good at longboarding) so relished the chance to learn how from some of the best female skateboarders in London.
We showed up to a hotpod set up right in the middle of the skatepark and settled in for 30 minutes of pre-skate yoga. I found it super cool finding zen in the middle of a busy skate park with the tube thundering by every few minutes. It actually was super calming in a chaos kinda way. After yoga we grabbed some boards and jumped in a quick lesson where we were jumping on the board with our two feet. Finding balance on a wobbly board is pretty much step 1 and it's all core & bending your knees. You can't really cheat or else you're going to go flying!
After mastering standing on a board, we moved on to.. moving. A few tips on feet placement on the board (point the front foot in the direction you want to go and keep all your weight over its so you don't fly backwards. Push push with the back food and you'll be going (slowly) in no time.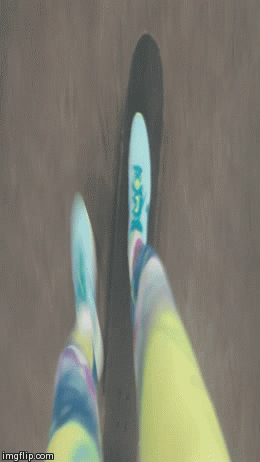 Jen & I did a few laps back and forth (not knowing how to turn limited us to our exploring) and picked up a fair bit of speed. Conquering the flat & straight we decided to call it a night before anything broke and headed home with the idea of coming back to the Bay Sixty6  ladies night's on the first Friday of every month.
Thanks Nike for an experience I wouldn't have tried without your suggestion!